Without the support of our sponsors, our Market would find it difficult to exist. Please be sure to patronize our sponsors. If you are interested in becoming a sponsor, please complete the application below.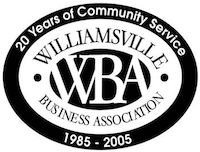 ~~Presenter Sponsorship~~
The Williamsville Business Association, Inc. is a group of business, professional and civic leaders whose purpose is to promote the growth of the business environment and to enhance the quality of life within our community. Over the past 30 years, our Association has represented the merchants and professionals in many ways to make our village a bustling center of commerce.

~~Presenter Sponsorship~~
Evans is a full-service community bank, with 15 Financial Centers, providing comprehensive financial services to consumer, business and municipal customers throughout Western New York.