Proprietor: Kerry Planck
Alpine Made is a unique business. Their skincare products such as soap, lotion, creams,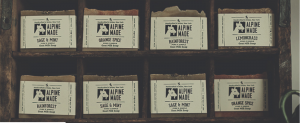 and lip balms are made from organic goat milk. The Alpine Made farm is a certified organic goat farm in Western New York State, producing organic goat milk (it's the only NYS producer of organic goat milk, and one of only 37 producers in the country).
Alpine Made skincare products are for people who desire a fresh, unrefined, natural product. The organic goat milk soap helps alleviate skin issues like dry cracked skin, eczema, psoriasis, acne, dandruff, etc.
Visit them on the web at alpinemade.com
or on Instagram, Twitter, or Facebook